Burma: Australian publisher Ross Dunkley convicted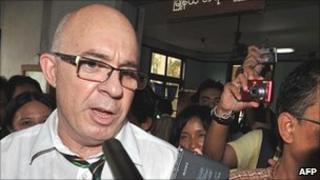 An Australian newspaper editor has been convicted of assault and immigration offences after a trial in Burma.
Ross Dunkley was sentenced to one month in jail, but was set free because of the time he had already served.
The 55-year-old editor of the Myanmar Times was arrested on 10 February and not granted bail until late March.
He was acquitted of other charges, included allegations that he drugged the 29-year-old woman he was convicted of assaulting.
The woman had previously tried to have her complaint dropped - saying she was pregnant and unable to travel to court, the AFP news agency reports.
The court in Rangoon sentenced Dunkley to 30 days in prison for "simple hurt", before allowing him to go free because of the time he had already spent in detention.
He also opted to pay a fine of 100,000 kyat ($120) instead of serving a six-month jail term for the automatic breach of immigration laws his conviction for assault brought.
Walking out of court, the newspaper editor told reporters the verdict was ridiculous and said he would appeal.
Dunkley has run the Myanmar Times for a decade, under an arrangement whereby all its content is passed through government censors.
His business partners said in March the arrest had come amid a dispute with Burmese colleagues over the newspaper's ownership, future direction and senior leadership roles.