Aung San Suu Kyi makes first trip since her release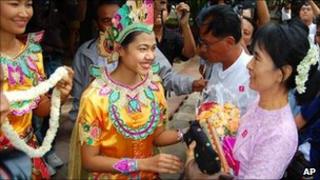 Burmese pro-democracy leader Aung San Suu Kyi is travelling outside Rangoon for the first time since her release from house arrest last year.
Aung San Suu Kyi is making the trip to Bagan, an ancient temple city, with one of her sons, Kim Aris, who has described the visit as a holiday.
Released without conditions, Ms Suu Kyi is in theory free to travel.
The government has warned of chaos if she tries to rally public support, and there are fears for her safety.
Aung San Suu Kyi plans to visit the birthplace of her famous father, former general and independence leader Aung San.
Her son said both he and his mother needed a break.
Plain clothes
Officials of her party have warned supporters to stay away. They fear a repeat of her last trip outside Rangoon in 2003 when her convoy was ambushed.
She was travelling in the north of the country when thugs linked to the then ruling generals attacked her convoy.
She just escaped, but was imprisoned for seven years until her release from house arrest last November.
"It's nerve-racking. We are concerned for her safety," said Soe Aung, with the Bangkok-based Forum for Democracy in Burma.
Only last week, the new military-backed government warned her and her party to cease political activity.
A commentary in a state-run newspaper warned there might be chaos and riots if Aung San Suu Kyi travelled out of town.
It is not possible, her colleagues say, to pretend she is an ordinary woman going on holiday.
Of course people will follow her and want to talk to her, they say.
She has kept her visit to Bagan low-key, and was greeted by journalists and what appeared to be plain clothes security men.
Her organisation, the National League for Democracy, is keeping the government informed of her movements.
Separately, in Washington, the second highest-ranking diplomat in the Burmese embassy, Kyaw Win, has defected.
"Senior military officials are consolidating their grip on power and seeking to stamp out the voices of those seeking democracy," he told Radio Free Asia.
He added that the threats against Ms Suu Kyi "must be taken seriously".