Naoto Kan resigns: Japan's revolving door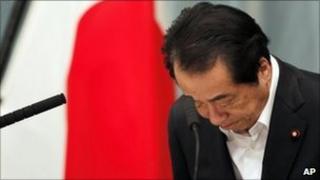 Ask Japanese people about their country's politicians, and the response is usually eye-rolling exasperation - or despair.
It may have the world's most efficient trains and supremely orderly cities, but Japan's political system is ineffectual. Whoever takes over now will be the sixth occupant of the prime minister's office since September 2006.
It is a measure of how bad things have got that by surviving in office for just over a year Naoto Kan has done rather better than his four immediate predecessors.
Yukio Hatoyama lasted just 10 months. He squandered the goodwill which carried his Democratic Party of Japan (DPJ) to a historic victory in August 2009 by dithering over the relocation of the US military's Futenma base in Okinawa.
Mr Hatoyama had defeated Taro Aso, only the second Liberal Democratic Party (LDP) prime minister in more than half a century to lose an election.
Mr Aso's brief period in power is remembered for his verbal gaffes, like when he described the elderly as "hobbling malingerers". One in five Japanese voters is over the age of 70.
Before that, Yasuo Fukuda resigned just a few days shy of a year in office. Shinzo Abe chose the first anniversary of his appointment to step down abruptly.
Nuclear woes
Mr Kan was doomed from the moment he won a no confidence vote in the Diet (parliament) on 2 June.
Facing a rebellion in his own party orchestrated in large part by his predecessor Mr Hatoyama, Mr Kan extended his time as prime minister only by making a promise to step down at a future date.
From the very next day, the only question that mattered in Japanese politics was when he would go - with his opponents urging him to quit sooner rather than later.
What makes the paralysis, and the revolving door at the prime minister's office more serious now is that everybody agrees Japan is facing its biggest challenge since the end of World War II.
Clearing up and rebuilding after the 11 March earthquake and tsunami is an enormous and costly task. The crisis at the Fukushima nuclear power station remains unresolved, radiation is still leaking, the reactors are far from a cold shutdown.
Spooked by the catastrophe, local communities are reluctant to give their go-ahead for nuclear reactors elsewhere to be restarted after routine maintenance. Two-thirds of the plants are now offline, threatening power shortages, or at the very least a far greater dependence on expensive fossil fuels, undermining Japan's balance of payments.
What choice?
And then there is Japan's big long-term problem. Before the earthquake politicians were embroiled in a debate over how to restart a stagnant economy while maintaining social welfare in a rapidly ageing society.
Japan's national debt is the biggest in the industrialised world and ballooning. Consumption tax is among the lowest, just 5%. But as politicians struggle for tactical advantage, none seem willing to grasp the nettle and raise it.
Even if he musters the determination Japan's next prime minister will be hampered, like Mr Kan, by what is known as a "twisted Diet". The opposition controls the upper house of parliament and can delay and block legislation.
"Nothing is moving forward, the Japanese economy is going down even faster. The politics is not making necessary decisions. The government is not implementing necessary policies and the people are suffering," says Taro Kono, a reform-minded member of the opposition LDP tipped to perhaps be prime minister one day.
"It is a political disaster and we've got to do something about this. The budget deficit, ageing society; we've been saying the pension system needs reform for about 10 years and nothing has been done.
"A lot of things have been stagnating. The politicians need to see the reality. There is no time for a political in-fight. We all have to unite together and start taking action for the country."
Opinion polls show the voters are bitterly disappointed with the DPJ, which promised great reforms in 2009 but has failed to deliver much.
Few voters want to go back to the LDP. In 55 years of almost unbroken power it operated what became known as the Iron Triangle - the party, bureaucrats and big business all scratching each other's backs.
The crisis at Fukushima has provided a stark warning of the hazards of such a system. Collusion at the top undermined regulation in the nuclear power industry.
The cry going up in the Diet and newspaper editorials is for a so-called grand coalition, bringing together the LDP and the DPJ to govern in the interest of the country. This, say supporters, is the only way to break through the gridlock in parliament that has delayed bills to rebuild the disaster area, and made reform so difficult.
Doubters wonder if it can work. Whether politicians who carried on squabbling through the disaster despite the disapproval of ordinary Japanese will be able to put aside their differences and actually work together.
But the idea has one great advantage. As Japan tries to mend its broken political system, a grand coalition is one of the few options that has not been tried yet.