Philippines seeking seas claim at Beijing talks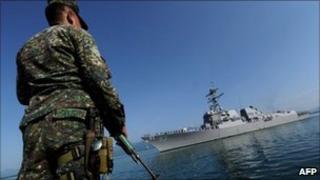 The Philippine Foreign Secretary, Albert del Rosario, is visiting his counterpart in Beijing, with the ongoing row over the South China Sea set to dominate talks.
The Philippines has accused China of encroaching repeatedly into what it considers Philippine waters.
But China shows no sign of backing down from its claims in the region.
Six countries claim territory in the South China Sea, which is thought to be rich in oil and gas.
Albert del Rosario's trip to Beijing is a long-planned visit, with many items on the agenda.
Manila claims there have been at least 10 separate Chinese incursions into its territorial waters since late February.
President Benigno Aquino has said he is extremely concerned.
Mr del Rosario went to Washington recently to discuss the situation with US Secretary of State Hillary Clinton, and she promised to honour a long-standing defence pact with the Philippines if necessary.
The dispute has become even more heated after Philippine officials banned a senior Chinese diplomat from foreign ministry meetings, saying he was rude.
They claim that Li Yongsheng raised his voice while discussing the sea dispute with officials last month - and that his conduct was "unbecoming of a diplomat".