Does Australia owe its Chinese an apology?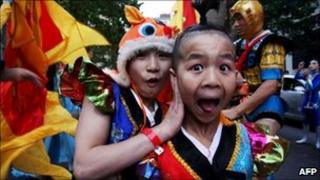 Chinese migrants endured more than a century of government-backed discrimination in Australia. Now, Chinese Australians are about to ask for a formal apology.
Dennis O'Hoy's grandfather arrived in the southern Australian goldfields from Hong Kong in 1860. He was forced to live in squalid settler camps, surrounded by poverty and racism.
"Many committed suicide by hanging or drowning themselves," says Mr O'Hoy, remembering his grandfather's descriptions of the plight of Chinese men who could not cope.
"It's just tragic because they didn't have money to get back to China and there was no-one to look after them in Australia."
Descendants of those 19th Century labourers and miners say it is time that Australia said sorry for the past.
'Evil and opium-smoking'
In the middle of the 19th Century, the newly found goldfields of Victoria and New South Wales attracted settlers from China. They were prolific and arrived in large numbers - but were often viewed with jealousy and suspicion.
In the early 1860s, those feelings boiled over into one of the worst race riots in Australian history. Hundreds of white miners attacked Chinese prospectors at Lambing Flat in the New South Wales gold belt.
Armed with pickaxes and spades, the mob burned camps, looted property and seriously injured dozens of Chinese workers.
In response, the government punished the victims rather than the aggressors. They passed the Chinese Immigration Restriction and Regulation Act in 1861, subjecting the Chinese to entry taxes in a bid to reduce their number.
"The Chinese community back then was painted as evil and opium-smoking. There was very heavy stereotyping and I'm glad I didn't live in that era," says Anthony Pun, president of Chinese Community Council of Australia, the most high-profile group representing Chinese Australians.
Anti-Chinese discrimination did not end in the 19th Century though. The Immigration Restriction Act of 1901, which ushered in the so-called White Australia Policy, subjected all immigrants to prohibitive tests.
Under the policy, officials would dictate a 50-word passage in any European language. If the would-be immigrant failed to write down the passage correctly, they would be refused entry into Australia. That policy was in force for most of the 20th Century.
Layers of discrimination
Currently more than 600,000 Australians claim to have Chinese ancestry - about 3% of the population. The Chinese Community Council is leading the calls for an apology and intends to write to the federal government to request a formal apology in the next few weeks.
Mr Pun says a statement of regret similar to those expressed to the Chinese in New Zealand and Canada would heal old wounds.
"Let us once and for all recognise what happened in history, acknowledge it and move on," he says.
Daphne Lowe Kelley, the head of the Chinese Heritage Association of Australia, says other groups of imported workers also faced subjugation and abuse - but it was the Chinese who suffered the most.
Not only did they endure legislative discrimination, they were also forcibly separated from their families and denigrated in newspapers, she says.
"They depicted the Chinese as being sub-human as if they were barbarians and were corrupting the morals of white society," she says.
"It really painted a terrible picture of the Chinese, who had to live through this for quite a long period of time."
Wider apology
There are still surviving links to those oppressive days. Arthur Chang came to Australia as a teenager to join his father, who arrived in Australia from China in 1885 and had travelled the outback looking for work.
Mr Chang, now 90 years old, says his father had a tough life, punctuated by bigotry and hardship.
"The Australian people were very good, but it was government policy in those days that was really very discouraging," he says.
So what would a formal apology mean to him?
"It would ease my mind," he says, adding that the country is more tolerant now, and Chinese people are more respected.
In recent times Australian prime ministers have said sorry for the past mistreatment of the country's indigenous peoples and child migrants, who were abused in state care.
But Ross Fitzgerald, an emeritus professor of history and politics at Griffith University, believes it would be a mistake to offer Chinese Australians a similar act of contrition.
"Where do you stop? If you apologise to the Chinese, surely you've got to apologise to those South Sea islanders who were brought here as indentured labourers, you'd have to apologise to the gay community and you'd have to apologise to a whole lot of different groups," he says.
"On the face of it seems to be a rather perverse idea."