Australia watchdog criticises Malaysia asylum swap deal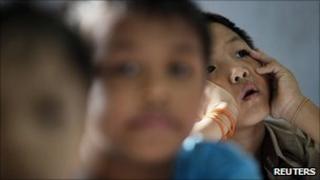 Australia's human rights watchdog has criticised the government's asylum-seeker swap deal, saying it may breach its international obligations.
The Human Rights Commission said it was particularly concerned about the rights of unaccompanied minors sent to Malaysia under the new agreement.
Australia is to send 800 asylum seekers to Malaysia, in exchange for 4,000 refugees from Malaysia over four years.
Canberra says the deal will "smash the business model of people smugglers".
The controversial agreement, which was signed in Kuala Lumpur on Monday, is intended to stem the flow of asylum seekers travelling to Australia by sea.
The next boat that arrives in Australian waters will be the first sent to Malaysia under the plan.
Malaysia, which is home to tens of thousands of illegal migrants, is not a signatory to the UN Refugee Convention and has not ratified the UN Convention against Torture.
Human rights groups say that refugees are routinely mistreated in Malaysia - but both Canberra and Kuala Lumpur have insisted their agreement will provide the necessary safeguards.
Responsibilities
The head of the Australian Human Rights Commission, Catherine Branson, said she was particularly worried about the welfare of young asylum seekers.
"[Immigration Minister Chris Bowen] is the guardian of unaccompanied of children who come to Australia claiming asylum. As their guardian he is obliged to act in their best interest," she said.
"It is very difficult to see how he can be satisfied that it is in the best interest of an unaccompanied child to send that child to Malaysia, a country that is not a signatory to the refugees convention."
Mr Bowen says he is confident that the asylum seekers his government will send to Malaysia will be well treated.
"They'll go into a transit centre for up to 45 days. That's where they'll receive their first basic checks. Then, with the assistance of the International Organisation for Migration, they'll move into the community," he said.
"They will have the right to self-reliance, including work rights, for children to attend schools and they will have the right to basic health care."
Meanwhile, Human Rights Watch has urged the United Nations not to endorse the deal, warning it could erode protection for asylum seekers across the Asia-Pacific region.
The UN has previously criticised Australia for holding all asylum seekers in detention centres while their applications are assessed.
The migrants are held for months at the Christmas Island centre, about 1,500 miles (2,400km) from the Australian mainland, and in other facilities.