South Korea allows flour aid delivery to North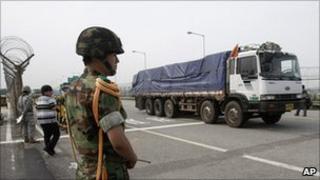 South Korea has allowed several humanitarian groups to deliver flour to North Korea for the first time since an attack on a border island last year.
The 300-tonne shipment was carried by 12 trucks across the demarcation line that divides the two Koreas.
The fatal North Korean shelling of Yeongpeong island led to a general suspension of aid.
The World Food Programme (WFP) estimates six million North Koreans are suffering from food shortages.
South Korea's Unification Ministry spokesman Chun Hae-sung said on Monday that the flour would be delivered to a nursery, a children's hospital and a kindergarten in the North.
South Korea suspended all aid to the North following the attack last November, which killed four people including two civilians.
Nuclear talks
In the past few months, Seoul has allowed some private deliveries by non-govermental organisations, but until now, flour was banned, on the grounds it might be diverted to feed North Korea's army or elites.
There has been fierce debate about whether Pyongyang is exaggerating the food problem to allow it to feed its army or stockpile supplies.
The past week has seen a slight thaw in relations between the two Koreas, after their nuclear envoys met on the sidelines of a regional conference, says the BBC's Lucy Williamson in Seoul.
North Korea's vice-foreign minister is travelling to Washington this week to talk about the possibility of restarting negotiations on his country's nuclear programme.
South Korea has said it is not considering a resumption of government-sponsored food aid to the North, which was suspended in 2008 as relations deteriorated.
Seoul says the North must make clear moves towards ending its nuclear programme before it can consider resuming large-scale aid.
Talks on North Korea's denuclearisation stalled in 2009.