Australia collar bomb: Policy inquiry 'well advanced'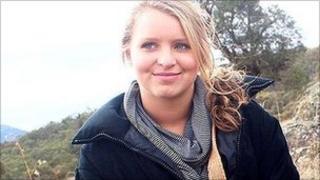 Australian police hunting for an intruder who strapped a fake bomb to a teenager at her Sydney home say their inquiries are "well advanced".
Police have promised to "tie down every lead" in what they said seemed to be an extortion attempt.
A note was attached to the collar bomb threatening to detonate the device, but made no financial demand.
Bomb experts took 10 hours on Wednesday to remove the device from the neck of 18-year-old Madeleine Pulver.
Officers later described the device as a very elaborate fake.
Ms Pulver left hospital on Thursday and told reporters gathered at her house on Friday morning that she was feeling "all right".
Constable's role
Australian media reports claimed that the note attached to the fake bomb was signed with the name Dirk Struan - a villain from the 1966 James Clavell novel Tai Pan.
In the novel, Struan uses extortion and other methods to vanquish a business rival.
Police have refused to confirm the reports.
New South Wales Police Commissioner Andrew Scipione said investigations were "well advanced", but stressed that it would be a "lengthy inquiry" because it was the first case of its kind in Australia.
"We're going to let the investigators get on with their job, do what has to be done. They will tie down every lead," he said.
Meanwhile, Constable Karen Lowden, who police chiefs hailed as a hero for staying with the 18-year-old during the ordeal, told reporters on Friday she was just trying to keep calm.
"It was a difficult situation for both of us, we were both trying to just get through that process," she said.
"I definitely felt like there was a connection there, having a child myself I knew I just wanted to be there for her, I didn't want to move."
Police arrived on Wednesday afternoon to investigate the device at Ms Pulver's home in the wealthy suburb of Mosman.
Reports later claimed that she had been studying for her high school exams when an intruder burst in and attached the bomb to her.
The bomb squad was called in and several streets were cordoned off.
Correspondents say officers were baffled by the device and sought help from experts including the British military.
Ms Pulver was eventually freed at about midnight and was taken to hospital.