Chinese man in 'dancing carrots' wedding proposal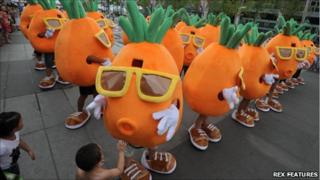 A Chinese man has asked his girlfriend to marry him in a bizarre stunt involving 48 of his friends dressed as carrots, according to reports.
Pang Kun gathered his friends at a public square in the north-eastern city of Qingdao for the stunt, on the Chinese equivalent of Valentine's Day.
The group performed a dance in front of bemused crowds before Mr Pang unmasked himself and proposed to Zhang Xinyu.
TV footage showed the embarrassed girlfriend accepting his proposal.
Web users have dubbed Mr Pang "Brother Carrot", which has become one of the most searched terms on the Baidu portal, according to a blog written by web firm's staff.
Footage broadcast on Liaoning TV shows the carrots dancing in formation in front of crowds of shoppers.
During the dance a man's voice can be heard saying: "Six months ago I met you. I still remember your shyness on our first date, my longing for the next date, and my excitement the first time I held your hand at the movie theatre."
Mr Pang then took his costume off and proposed to Ms Zhang while the crowd chanted: "Marry him, marry him."
Mr Pang told journalists that the proposal cost him 100,000 yuan ($15,600; £9,500) and took three weeks to prepare.