Philippines acts on MILF infighting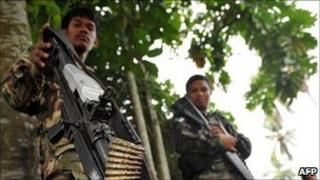 The Philippines has deployed the army to try to quell an outbreak of violence between two different factions of the Moro Islamic Liberation Front (MILF).
At least six people have died in the fighting, which broke out on Sunday.
The government is holding peace talks with the rebels later this month, but the resurgent violence may reduce the chance of a deal.
The MILF is the biggest group fighting for independence for largely Muslim areas of the country's south.
Soldiers in the southern Philippines are trying to contain the skirmishes between MILF fighters and those who broke away from the group to form their own splinter group.
An army spokesman said the priority was to help hundreds of villagers caught between the two factions.
The conflict is thought to have started as a dispute over land, but the two sides also disagree over the shape of an eventual peace deal with the government.
Earlier this month Philippine President Benigno Aquino met the head of the MILF, Murad Ebrahim, to try to bring new impetus to the negotiations.
The government has warned that unsolved conflicts within the MILF may derail the peace process.