China train crash: Experts sent to save girl's leg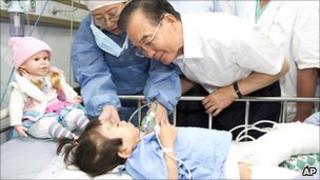 China is sending a team of medical experts to try to save the crushed leg of a two-year-old girl pulled from the wreckage of a high-speed rail crash.
A railways ministry spokesman has been sacked after fierce criticism of his handling of the aftermath of the crash, which caused public outrage.
Wang Yongping had been accused of elusive and uncaring responses to media questions after two trains collided in eastern China last month.
The crash killed at least 40 people.
Over the weekend, Xiang Weiyi's uncle posted an internet appeal to the railways ministry for help to save the girl's leg.
"She already suffered the ordeal of being alone for a long time in that dark train car, but we cannot let her drag a diseased leg... for an even longer time," he wrote.
"One day, when a Yiyi [the girl's nickname] who can clearly express her thoughts stands before us, can we say to her that we really tried our best?" he wrote.
The health ministry said on its website that a team of four experts would leave on Tuesday for Wenzhou to treat the child.
The child has already undergone five operations to remove dead muscle from her leg and seal the wounds, state media reports.
Trains recalled
Xiang Weiyi lay for 21 hours in the wreckage near her parents' bodies after the rescue mission in Wenzhou was called off. Critics say rescue efforts were expedited to quickly restore train services.
Mr Wang's attempt to describe the toddler's rescue as "a miracle" at a news conference after the crash was derided.
Quizzed by journalists over the reasons why parts of the wreckage of the trains had been quickly buried in the aftermath of the disaster, he said it had been to help the rescue, adding: "Whether you believe it or not, I believe it anyway."
Public outrage was further compounded by early attempts by Chinese officials to control reporting of the crash.
Last week, the country's safety chief said the crash was caused by serious design flaws and that the accident was "completely avoidable".
On Friday, state-owned train manufacturer CNR announced it was recalling 54 bullet trains that operate on the Beijing-Shanghai line, and the approval of new high-speed projects has also been suspended.
The high-speed rail network is a flagship project of China's Communist rulers, who have overseen the construction of the world's largest such infrastructure over the past four years.
But the project hit problems earlier this year with a corruption scandal.
The Wenzhou crash has led many Chinese to accuse the government of putting politics and profits before safety.