Man jailed by Chinese court for New Zealand killing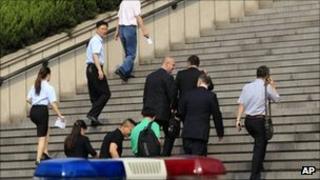 A Chinese court has jailed a man over the death of a taxi driver in New Zealand, in the first case of a person accused of murder in New Zealand being tried in another country.
Xiao Zhen was jailed for 15 years for stabbing Hiren Mohini in Auckland in January 2010.
He fled to China after the killing and was arrested in Shanghai.
China does not extradite its nationals to New Zealand, but worked with detectives there to put Xiao on trial.
New Zealand co-operated with the judicial process after the Chinese government promised not to apply the death penalty.
Xiao, 24, pleaded guilty to a charge of causing intentional injury at the court in Shanghai.
He told the court he stabbed Mr Mohini, 39, after a row erupted.
Officials from New Zealand were in court to hear the verdict.
"I think the verdict was fair. It's what we had hoped for. I think the sentence was according to (the) crime," said Senior Sergeant Hywel Jones.
He described the prosecution process as "a testament to international co-operation".