On the trail of the Australian collar-bomb hoaxer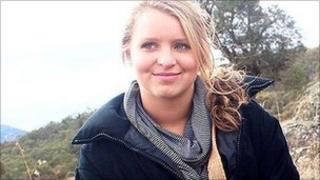 A news story that sounded like a pitch to a Hollywood movie studio has produced court documents that read like a best-selling thriller.
This week, the fake collar-bomb story leapt continents and shifted high-end suburbs, with the arrest of a 50-year-old Australian businessman near Louisville, Kentucky.
Paul Peters is accused of chaining a fake bomb around the neck of Sydney schoolgirl Madelaine Pulver, with the aim of extorting money from her family.
The court documents, which were presented as part of Paul Peters' extradition hearings in Kentucky, provide the most detailed account yet of what allegedly happened when a masked intruder broke into the Pulver family's luxury harbourside home.
They also reveal the electronic Gmail trail followed by police as they tracked down the suspect from Australia to America. Digital fingerprints were allegedly left behind on both sides of the Pacific.
The story starts on 3 August, when 18-year-old Madelaine Pulver was studying for her final year exams in her bedroom at her family home in Mosman, an exclusive suburb on the north shoreline of Sydney harbour with spectacular views of the city and water.
At about 2.15pm, a man wearing a striped, balaclava helmet over his head and carrying an aluminium baseball bat walked into her room. The man said he did not intend to hurt her. Obviously alarmed, Maddie Pulver stood up and asked what he wanted.
"Sit down and no one needs to get hurt," the intruder allegedly told her.
Maddie Pulver, who attends an exclusive private girls school in North Sydney, then sat down on the bed.
The man put the baseball bat and a backpack on her bed, and it was at that point that she saw he was carrying a black box.
In the words of the court document: "He forced the box against her throat and looped a device similar to a bike chain, which was also attached to the box, around her neck."
Maddie Pulver asked him what he was doing, and he said he would tell her in a minute.
After locking the box in place, he placed a lanyard around her neck, attached to which was a USB stick and a plastic document sleeve. Then he walked away.
Maddie Pulver asked where he was going. "Count to 200... I'll be back... if you move I can see you I'll be right here," he allegedly replied. Then he left.
"Extremely frightened," the 18-year-old sat for a short time, thinking that the man must be a thief. Then she yelled out, but got no response. At that point, she reached her mobile phone and sent a text message to her mother, asking her to call the police.
She walked from the bedroom and removed the documents from the plastic sleeve. It was then that she saw the word "explosive", and assumed that the man had attached a bomb around her neck.
Again, she yelled out, but got no response. Then she rang her father, and asked him to call the police. When officers arrived, Maddie was "crying and hysterical" but settled down as her horrifying 10-hour ordeal started to play out.
For the first time, we now know the wording of the note attached to Maddie's neck: "Powerful new technology plastic explosives are located inside the small black combination case delivered to you. The case is booby trapped. It can ONLY be opened safely, if you follow the instructions and comply with its terms and conditions."
The note also warned Maddie not to contact the police and said: "Remittance instructions to transfer a Defined Sum", would be provided once she had confirmed receipt of the message.
He told her to contact a Gmail address: Drikstraun1840@gmail.com a name drawn, apparently, from a character in James Clavell's 1966 novel, Tai-Pan.
It was this email address that the police say broke open the case.
'Waiting for an email'
First of all, the police determined that the Gmail account had been established on 30 May at an internet protocol address linked to Chicago Airport. Prosecutors claim that Paul Peters was at Chicago Airport that day.
Thereafter, the email account was accessed on three occasions - all on the day of the fake bomb attack. First it was accessed from a public library in Kincumber, a suburb in what is called the Central Coast, about an hour north of Mosman.
Later on, the address was accessed at a video store in Avoca Beach, a nearby town where many Sydneysiders keep weekend holiday homes.
At the video store, the man asked if he could use one of the internet computer terminals, because he was "waiting for an email". On his return, the man reportedly said: "Hi, I'm back again". Then he said "thanks" when he walked out. Over the road, at an off-licence - or bottle shop, as they are called in Australia - he asked the staff about a particular label of Sauvignon Blanc.
CCTV footage from the library showed a Range Rover in the car park, and a man fitting the description that had been given to police by Maddie Pulver walking through into the entrance. CCTV footage placed the same man in Avoca Beach.
There were more digital clues that the suspect allegedly left behind. An examination of a Word-format document on the USB stick found it had been written on a computer with the identification of "Paul P".
A refined search of the Range Rovers on record led the police to an address on Copacabana Drive in the coastal town of Copacabana, which Paul Peters used when he stayed in Australia. A former pupil at a prestigious Sydney school, The Scots College, and a graduate of Sydney University, the businessman split his time between Australia and America.
Immigration records showed that Paul Peters had flown from Sydney to Chicago on 8 August, and then onto Louisville, Kentucky. He was arrested at the home of his ex-wife in an affluent suburb of LaGrange, near Louisville, by an FBI Swat team, with detectives from the New South Wales police in attendance.
The police also obtained information showing that Paul Peters, a businessmen with interests in Australia and America, was formerly employed by a company with which the Pulver family had links.
The New South Wales police are seeking his extradition, and Mr Peters' American lawyer has said his client will fight all charges.
The Pulver family has expressed relief at the arrest. "It's all very surreal, very surreal," said Maddie Pulver. "I think we are all wondering why."