Pacific island sees first bank robbery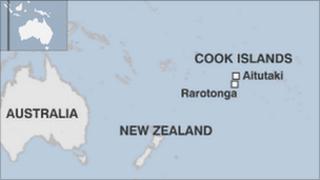 The remote Pacific island of Aitutaki in the Cook Islands has experienced its first ever bank robbery, local officials say.
The robbers, who struck last week, are said to have bagged about NZ$200,000 (£100,500; $166,000) - mostly savings from locals.
Police were flown in from the capital, Rarotonga, to probe the theft which shocked islanders, its mayor said.
The perpetrator is not believed to be from the 2,000-strong island.
"Everybody more or less knows each other," Mayor John Baxter told Radio New Zealand.
"If it was done by one of the local lads, then surely they would have talked and we would have got to the bottom of this?"
"We feel that it's someone from outside Aitutaki, who's not living here. Maybe someone who's come back from overseas or is living abroad. We don't believe a robbery of this nature could be done by an Aitutakian."