Vietnam halts anti-China protests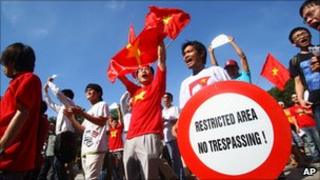 The Vietnamese government has ordered an end to anti-China protests in the capital, Hanoi.
The demonstrations began in June amid an upsurge in tensions over territorial disputes in the South China Sea.
The protesters have been gathering in Hanoi on Sunday mornings.
But the government said the protests had to stop, because people both inside and outside the country were using the rallies to stir up dissent against communist rule.
In a statement, the Hanoi People's Committee said "opposition forces" were using the weekly protests to create "division in national unity".
Police would take measures against those who defied the order, the statement said.
Public demonstrations are rare in Vietnam, a one-party state controlled by the Communist Party.
Tensions between China and Vietnam escalated after an incident on 26 May.
Hanoi accused a Chinese patrol vessel of cutting the cables of a Vietnamese ship conducting seismic research about 120km (80 miles) off Vietnam's south-central coast.
Rival countries have argued over territory in the South China Sea for centuries. China claims the largest area, putting it at odds with Vietnam, Brunei, Malaysia, the Philippines and Taiwan.