North Korea to resume talks with US on war remains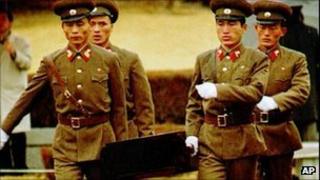 North Korea says it will resume talks with the US on repatriating the remains of troops killed during the Korean War, after a six-year halt.
Co-operation on the issue stalled in 2005 amid escalating tension over Pyongyang's nuclear ambitions.
But North Korea said it had accepted a US request to restart negotiations, and work to arrange a meeting was underway.
The move came hours after the US offered North Korea $900,000 (£546,000) in emergency flood aid.
It also followed rare talks last month in New York between US and North Korean diplomats.
Towards nuclear talks?
Just over 8,000 US service personnel remain classified as missing more than half a century after the 1950-53 Korean War, which ended in a truce.
Teams from the two countries recovered more than 200 sets of remains between 1996 and 2005.
But worked was called off in 2005 as ties between the two nations deteriorated, with North Korea conducting its first nuclear test a year later.
North Korea said it had made a decision to resume talks after a request from the US.
"Work for talks between the militaries of the DPRK (North Korea) and the US is now under way," state media quoted a foreign ministry spokesman as saying.
The announcement comes amid signs that tension between Washington and Pyongyang may be easing.
The US described the talks convened in New York in July to discuss the possible resumption of stalled multilateral negotiations on nuclear disarmament as "serious and business-like".
Ties between North and South Korea have also stabilised in recent months, following the March 2010 sinking of a South Korean warship and North Korean shelling of a South Korean island in November.