Ousted Thai leader Thaksin defends Japan visit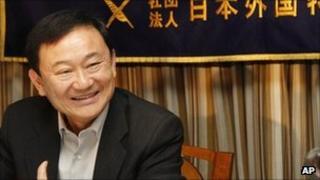 Former Thai Prime Minister Thaksin Shinawatra said he had no plans to "fuel conflict" in Thailand, as he paid a controversial visit to Japan.
Mr Thaksin said he would not meddle in the government of his sister, Yingluck, but would advise her when needed.
Ms Yingluck, who on Tuesday began setting out her policies in parliament, won July's general election.
The opposition has accused her government of persuading Japan to grant Mr Thaksin entry despite his jail term.
The Japanese government said earlier this month it had received a request from Thailand to grant Mr Thaksin a visa.
Mr Thaksin was ousted by the military in a 2006 coup and was subsequently given a two-year jail term for abuse of power.
He now lives overseas, but is widely seen as the de facto leader of his sister's governing Pheu Thai party.
'Part of the solution'
During his week-long visit to Japan, Mr Thaksin will visit earthquake-hit regions, meet business leaders and deliver speeches.
He was issued a special visa by the Japanese government because of his criminal conviction.
The Thai opposition has accused Foreign Minister Surapong Towichukchaikul of facilitating this process and has begun legal action.
Mr Surapong has in turn launched a countersuit against four members of the opposition for defamation.
Mr Thaksin said he was visiting Japan to support its recovery from the 11 March earthquake and tsunami, and said he had no plans to return to Thailand.
"I don't want to fuel any more conflict. I just want to be a part of the solution, not a part of the problem," he said.
And he rejected the idea that his sister was acting as his proxy.
"She has her own right and leadership to run the country," he said. "Whenever she needs advice, she calls me, I give her advice, that's all."
In Bangkok, Ms Yingluck - who leads a six-party coalition - is taking part in a two-day debate on her policy agenda.
Opening the session, the new prime minister said her priority was to stabilise the economy, boost incomes and "bring the country toward prosperity, reconciliation and justice".