South Korean workers leave North Korean Kumgang resort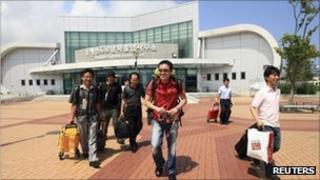 South Korean workers have left Mount Kumgang in North Korea, a day after Pyongyang said it was seizing South Korean assets at the tourist resort.
The last 14 South Korean workers and two Chinese colleagues returned across the land border on Tuesday.
The resort was once a symbol of inter-Korean rapprochement, with thousands travelling from the South each year.
But Seoul suspended visits after a North Korean guard shot a South Korean woman there in 2008.
South Korea says is wants a formal investigation into her death and an apology.
North Korea, meanwhile, wants the tours to restart because the resort is a key source of revenue.
On Monday it said that it was seizing South Korea's assets at the site because of Seoul's failure to allow tours to resume.
It also gave the staff there 72 hours to leave.
A spokeswoman for Seoul's Unification Ministry confirmed there were now no more South Koreans at the resort, which opened in 1998 as ties between the two Koreas warmed.
South Korea has suggested it will take legal action over the asset seizure.
The move comes amid ongoing tensions between the two neighbours, who remain technically at war in the wake of the 1950-53 Korean War.