Four Thai 'red-shirt' protesters jailed for 34 years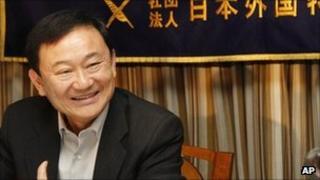 Four protesters in Thailand have been jailed for 34 years each for their part in anti-government unrest last year.
They were among 21 people charged with involvement in an arson attack on a town hall in Ubon Ratchathani in north-east Thailand.
They belonged to the red-shirt movement, broadly loyal to ousted Thai leader Thaksin Shinawatra.
His sister is now prime minister, following an election win in July.
The red-shirts held more than two months of protest in Bangkok last year aimed at forcing the previous government, led by the Democrat Party's Abhisit Vejjajiva, to step down.
Sporadic protests were also held in towns outside the capital, particularly in the north-east where Mr Thaksin remains very popular.
A total of 21 people were tried over the attack in Ubon Ratchathani in May.
"Four were found guilty and sentenced to life in prison, but as they cooperated the court commuted the sentence to 34 years," an official told AFP news agency.
Nine others were acquitted and the rest received shorter jail terms.
Mr Thaksin was ousted by the military in a 2006 coup, but parties loyal to him have won both subsequent elections.
A court ruling forced his allies from power in late 2008, allowing Mr Abhisit to form a government.
The red-shirts called his government illegal and, 15 months later, occupied key Bangkok streets in a bid to force him to step down.
More than 90 people died in the subsequent unrest, most of them red-shirt protesters.