Yu Woo-ik named as top S Korea official on N Korea ties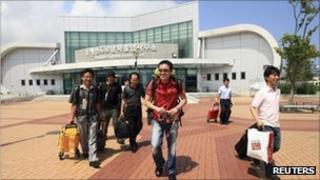 The South Korean president has removed his top official on cross-border ties, amid severe tensions with North Korea.
Unification Minister Hyun In-taek, a hard-liner, has been in the key post since January 2009.
But President Lee Myung-bak replaced him with Yu Woo-ik, a former ambassador to China.
Mr Lee had come under pressure from his party to name a new minister as relations with Pyongyang continued to deteriorate.
Ties between the two Koreas have been tense since Mr Lee took office in early 2008.
He made the provision of aid to the impoverished North conditional on progress on nuclear disarmament, angering Pyongyang.
Relations plummeted in March 2010 when South Korea blamed the North for sinking one of its warships, killing 46 sailors.
North Korean shelling of a South Korean border island in late 2010, which killed four people, soured ties further.
The announcement also comes days after North Korea seized South Korean assets at a joint tourist resort north of the border and expelled all South Korean personnel.
Seoul had suspended tours to the resort - a key foreign currency earner for the North - in 2008 after a guard shot and killed a South Korean tourist.
Yonhap news agency said that Mr Yu, the incoming unification minister, had kept a dialogue channel with North Korea open since he retired as South Korea's ambassador to China in May.
The South Korean news agency said his appointment could signal a shift in Seoul's stance towards Pyongyang.