What happens when China's president comes to dinner?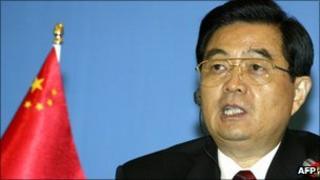 When Chinese President Hu Jintao dropped in on a farmer during a Chinese new year holiday, the visit appeared spontaneous and relaxed.
A TV news report showed Mr Hu laughing with the farmer and his family, and enjoying a local speciality, the Dingxi potato.
But what appears to be a confidential cable from the US embassy in Beijing - made public by WikiLeaks - suggests the visit was not as casual as it looked.
Senior communist party officials had been preparing for the trip for days to make sure nothing went wrong.
No detail, it seems, is too small; officials even instructed the farmer not to shave - to ensure he looked suitably rustic.
Unknown visitor
Political leaders across the world seek to manipulate media events for favourable coverage, but those attempts are often documented.
What is less well known is how Chinese leaders seek to direct public opinion through staged-managed events.
This leaked document gives a rare insight into that world.
The cable - entitled When Hu Jintao Comes For Dinner - was sent to the US secretary of state from Beijing in November 2009.
It details a visit by Mr Hu - who is also general secretary of the Chinese Communist Party - to Gansu province two years earlier.
In the cable, US diplomats said they had received their information from Shi Jing, a former party secretary in Gansu.
Its details seem to be verified by a news report of the visit shown on national television.
Mr Shi apparently told US embassy staff that local officials were informed 10 days before the visit that a "high-level" leader would travel to the area during the holidays.
They were not told who it would be, but guessed it was Hu Jintao as he had been to the chosen village - Daping - eight years before.
There were, apparently, other tell-tale signs.
"Shi said he quickly realised the visitor was Hu Jintao based on… the fact that only the Xinhua news agency and China Central Television (CCTV) would be covering the visit," reads the cable.
"Shi explained the higher level the visitor, the fewer media outlets that were allowed to cover the visit."
'Sick of potatoes'
Communist party officials wanted the country's top leader to meet the "epitome of a weathered Gansu farmer".
Seventy-year-old Li Cai was chosen - and told not to shave.
Local officials were instructed not to make improvements to his home by adding such things as electronic appliances or furniture.
Despite the warning, Mr Shi told US diplomats he had a stove and chimney installed in the famer's house to cook the local delicacy - Dingxi potatoes, named after the local city.
He thought that TV footage showing Hu Jintao eating one of the potatoes was an advertising opportunity not to be missed.
Unfortunately, things did not go to plan. According to the cable, Mr Hu offered a potato to the farmer's grand-daughter, who told the leader of 1.3bn people that she was "sick of eating them".
In a recent publicity campaign, one local official said he wanted to turn the area into "China's potato capital" because the root vegetable offered them "a more prosperous future".
Fortunately, Li Cai's grandchild was eventually persuaded to eat a potato, a scene that featured in the CCTV report of the visit.
Twisted dough sticks
But there was another food-related problem to overcome.
The Chinese president was to make twisted dough sticks, which are cooked by plunging them into a pan of boiling oil.
What would happen if the oil splashed Mr Hu and burned him?
"The solution… was to heat the oil to 70% of the normal temperature and give Hu an extra-long set of chopsticks," says the cable.
The Chinese president was given another, already prepared, dough stick to eat.
The final CCTV report would have made the nervous officials in the Communist party pleased with their detailed preparations.
Mr Hu has built his presidency on appearing to listen to ordinary people's opinions.
"People's lives in Daping are improving each day. I feel very happy," he was shown telling an audience of farmers, who clapped and cheered his words.
One of those farmers was Li Cai, with his long straggly grey beard clearly visible on his chin.