Australian charged over Parramatta hostage siege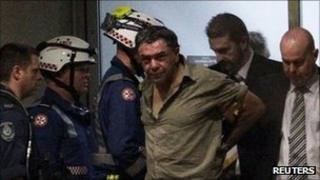 An Australian man who was at the centre of an 11-hour stand-off with police on Tuesday has been charged with holding his own daughter hostage.
The 52-year-old sparked a major alert when he told staff at a legal office in the Sydney suburb of Parramatta that he had a bomb in his backpack.
He then barricaded himself and his 12-year-old daughter into the office.
The man, who cannot be named for legal reasons, was remanded in custody after a brief court hearing.
The hostage drama ended late on Tuesday when police stormed the legal office using a battering ram.
They ushered the girl to safety and arrested the man.
Police later said he did not have any explosives.
According to court documents seen by the Associated Press news agency, the man made several demands during the siege.
He said he wanted AU$4,500 (£3,000; $4,800) from an Aboriginal Land Council - an advocacy body for aborigines' rights.
He also said he wanted access to a lawyer, and legal action taken against another person.
Police said in a statement that the man, from the city of Orange, about 130 miles (200km) west of Sydney, had been charged with seven offences.
The charges included detaining a person with intent to obtain advantage, and giving false information to police.
It is the second bomb-related scare the Sydney authorities have had to face in recent weeks.
A teenager had a fake bomb attached to her neck by an attacker at her home three weeks ago in an apparent extortion attempt.
A suspect was detained in the US, and is awaiting extradition to Australia.