Islamic militant group 'behind Xinjiang attacks'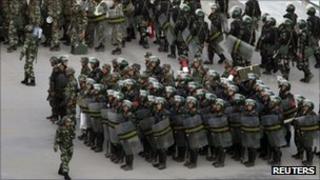 A militant Islamic group has released a video saying it was behind recent attacks in China's Xinjiang region which left dozens of people dead, a US internet monitoring group says.
The video was made by a group calling itself the Turkistan Islamic Party.
The group, which is fighting against Chinese control of Xinjiang, says the attacks were revenge against the Beijing government.
The attacks in July, in Hotan and Kashgar, left over 30 people dead.
Almost half of Xinjiang's residents are Uighurs, Turkic-speaking Muslims with cultural and ethnic links to Central Asia.
Many complain that large-scale migration of Han Chinese workers from the east has cost them jobs and is eroding their culture.
China has invested heavily in Xinjiang and the region's rich oil and gas deposits are vital to its booming economy.
Two years ago, tensions between the two communities erupted into ethnic violence that left almost 200 people dead.
Bus bombings
The video was brought to light by US security firm SITE, which monitors radical Muslim groups.
It says it shows the leader of the Turkistan Islamic Party, Abdul Shakoor Damla, saying his group carried out the July attacks.
About 18 people died when a police station was attacked by a mob in the city of Hotan in mid-July.
Fifteen people were killed later that month in Kashgar, in an explosion and when men drove a truck into pedestrians.
In 2008, the Turkistan Islamic Party released a video saying it had carried out bus bombings in Xinjiang and Yunnan.
Last month, China's top Communist Party official in Xinjiang pledged a harsh crackdown on terrorism and religious extremism.
"[We] must maintain a strike-hard policy in the crackdown against terrorists... to resolutely curb the continued occurrences of violent terrorist cases," Zhang Chunxian said.
But activists attribute tensions to Beijing's heavy-handed rule in the region, where security remains very tight.