Australia police drop Craig Thomson sex scandal inquiry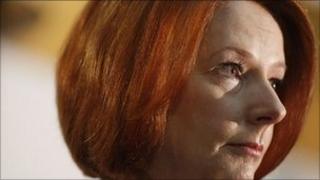 Australian police have dropped an inquiry into an MP from the governing Labor Party at the centre of a prostitution scandal.
Police say there is no basis for a criminal investigation against Craig Thomson over claims he misused his trade union credit card to pay for sex.
Mr Thomson has denied any wrongdoing.
A conviction for theft or fraud against him could have brought down Julia Gillard's government, which has a single-seat majority.
Opinion polls suggest the Gillard government is deeply unpopular, and analysts say the Liberals would have easily won an ensuing by-election.
The New South Wales police said in statement that there was "no basis for a formal investigation into any offence" under state law.
It is alleged that Mr Thomson paid for escort services and drew out more than $A100,000 ($104,000; £63,000) in cash on a card issued by the Health Services Union during his employment there in 2003 to 2005.
Mr Thomson, who entered parliament after the 2007 election, has claimed that other union officials had access to that credit card, and denies any wrongdoing.
Mr Thomson responded to the police decision in a statement saying he had "always rejected claims of wrongdoing in these matters".
Ms Gillard told reporters that she had "consistently expressed my confidence in" Mr Thomson.
The country's employment watchdog, Fair Work Australia, is carrying out its own investigation, and is expected to announce its findings by the end of the year.