'Banned pesticides' in China food shops - Greenpeace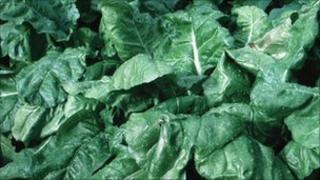 The environmental campaign group Greenpeace says it has identified banned pesticides in vegetables sold by three supermarket chains in China.
The companies include outlets operated by the UK firm Tesco.
Tesco told the BBC it had just received the report and needed to examine it.
Greenpeace says the pesticides included chemicals that are classed as highly hazardous by the World Health Organization (WHO), and could affect unborn children or male fertility.
The environmental group says tests it carried out identified prohibited organophosphates on spinach sold by Tesco and a local rival, the Lianhua chain.
The same pesticide was found on green peppers, aubergines and leeks sold by Thailand's Lotus group.
In addition, the campaign group says it found levels of pesticides above Chinese legal limits on strawberries sold by Tesco and leeks sold by Lianhua.
The samples were bought in major Chinese cities between April and July this year.
Greenpeace says British people expect food sold by Tesco to be safe to eat, adding that the same should apply in China.
Scandals over contaminated food have caused considerable public alarm in China in recent years.
In the most serious case in 2008, milk products mixed with the industrial chemical melamine caused the deaths of at least six infants and sickened 300,000 people.
Greenpeace is urging the supermarkets to follow other major chains in China, including the French-owned Carrefour and Auchan and Japan's Aeon, that have set up tracing systems to identify where produce comes from and ensure it is pesticide free.