China singer apologises for son's road-rage attack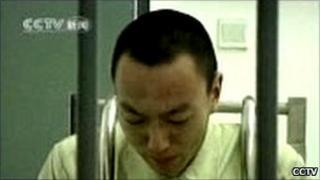 A Chinese army general and singer has apologised to a couple beaten by his son in a road-rage incident, in the latest scandal involving children of the rich and powerful in China.
Official media showed Li Shuangjiang visiting the injured couple in hospital and said he had offered compensation.
Reports say Li Tianyi, 15, was detained with an older youth on Tuesday.
Witnesses said they leapt from two sports cars and beat the couple, asking "Who dares to call the police?"
Bystanders stopped them leaving the scene and they were then arrested.
The incident - reminiscent of a high-profile hit-and-run case last year involving the son of a senior police officer - caused outrage on internet forums.
'So sorry'
Li Shuangjiang, who teaches at the army's arts academy, was photographed in China's official media visiting the injured couple in hospital.
"As the father, I bear the responsibility for my son's behaviour. I'm so sorry that I'd rather now be beaten by you," he was quoted as saying.
"I will not condone my son's faults, and there will be a settlement."
It comes a year after an incident that sparked national debate about the behaviour of relatives of China's elite.
In October 2010 Li Qiming, the son of a senior police officer, struck two university students with his car. One of them, 20-year-old Chen Xiaofeng, was killed.
Local media reported that when people had tried to stop him fleeing the scene, Li, then 22, had said: "Go ahead, sue me. My father is Li Gang."
His case attracted enormous public attention and he was subsequently jailed for six years.
The phrase "My father is Li Gang" became synonymous with arrogance and privilege, reflecting the widely held view that offspring of China's new rich and powerful consider themselves above the law.