Japan names Yukio Edano trade minister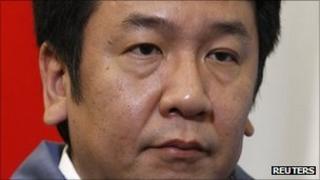 Japanese Prime Minister Yoshihiko Noda has appointed Yukio Edano as trade minister, reports say, after the abrupt resignation of the previous incumbent.
Mr Edano gained prominence as the chief government spokesman after the earthquake and tsunami in March.
Yoshio Hachiro resigned as trade minister after calling the area around the tsunami-damaged Fukushima nuclear plant a "town of death", or ghost town.
The trade ministry is also responsible for the energy portfolio.
Mr Hachiro is reported to have rubbed his jacket against a reporter, saying "I will give you radiation," after visiting the plant - which is still leaking radioactive material - on Thursday.
Mr Hachiro's comments were widely seen as insensitive and prompted calls by opposition parties for him to resign.
Prime Minister Noda later said they were inappropriate and Mr Hachiro should apologise.
About 80,000 people have been evacuated from a 20km (13 mile) radius around the plant. Officials have warned that some areas may be uninhabitable for years because of radiation.
"Sad to say, the centres of cities, towns and villages around it are a town of death without a soul in sight," Mr Hachiro said at a news conference on Thursday.
He later apologised for the remarks and said he had been trying to convey the seriousness of the situation.
His departure is viewed as a major embarrassment for Mr Noda, who only took office at the end of August and was due to tackle the recovery effort from the disaster, correspondents say.
Mr Noda is Japan's sixth prime minister in five years.
His predecessor, Naoto Kan, was forced out of office because the opposition and many in his own party believed he had failed to show sufficient leadership in the crisis.
Mr Edano was the chief government spokesman under Mr Kan, responsible for informing the public about developments during the crisis.
In the days immediately after the disaster, he gave press conferences several times a day and became the public face of the government's response.
It is almost exactly six months since the devastating tsunami and earthquake hit Tokyo and north-eastern Japan, leaving some 20,000 people dead or missing, and triggering the nuclear crisis at Fukushima.
To see the enhanced content on this page, you need to have JavaScript enabled and
Adobe Flash
installed.