Collar-bomb suspect Paul Peters to go back to Sydney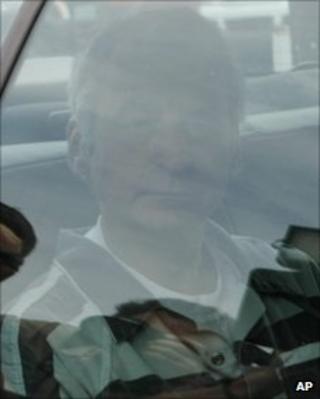 An Australian investment banker accused of placing a fake bomb around a young woman's neck and fleeing to the US has appeared at his extradition hearing.
Paul Peters, who has often travelled between the two countries, told a district court in Kentucky he would no longer fight his return to Sydney.
The 50-year-old's lawyer said his client was expected to go back to Australia in about a week's time.
He is accused of placing the hoax bomb with the aim of extorting money.
Mr Peters appeared on Wednesday at court in Louisville, wearing a black-and-white striped prison uniform.
'No bed of roses'
After the hearing, he waved to his ex-wife, Deborah Lee Peters, at whose home near Louisville he was arrested on 11 August by FBI agents.
His attorney, Thomas Clay, told the Associated Press news agency that Mr Peters was no longer contesting extradition, because he wanted to face the charges against him in Australia.
"The Oldham County Jail is no bed of roses," Mr Clay said. "He wants to get out of there and go back."
In August, a masked intruder broke into the family home of 18-year-old Madeleine Pulver in the Sydney suburbs and threatened her with a baseball bat.
The suspect told her to be still and placed what appeared to be a collar bomb around her neck, before leaving a ransom note and fleeing.
A bomb squad freed her 10 hours later when they found the device was fake.