Japan urges mass evacuation ahead of Typhoon Roke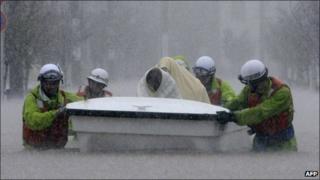 More than a million people in central and western Japan have been urged to leave their homes as a powerful typhoon approaches.
Japan's Meteorological Agency warned that heavy rains brought by Typhoon Roke may trigger landslides and floods.
The storm is packing winds of 144km/h (90mph) and is expected to strengthen.
More than 460,000 households have been ordered to evacuate in Nagoya city, Aichi Prefecture, where it is feared nearby rivers may burst their banks.
Television footage showed Nagoya residents wading through water up to their knees. In some parts of the city rescue workers had to transport people in inflatable boats.
Evacuation advisories have also been issued in neighbouring Gifu and Hyogo prefectures. In Gifu, a nine-year-old boy and an 84-year-old man are feared drowned after being swept away by flood waters.
In the southern Kyushu prefecture of Miyazaki, nearly 400mm (16in) of rain fell on Tuesday.
Up to 40,000 people there have been advised to leave due to the risk of mudslides, where volcanic ash has accumulated after recent eruptions, public broadcaster NHK reported.
Typhoon Roke is expected to make landfall in central Japan on Wednesday and move north-east - possibly towards the crippled Fukushima nuclear plant, the Meteorological Agency said.
"We ask that the highest level of caution be used because of the heavy rain, strong wind, and high waves," the agency said during a televised news conference.
It warned of downpours over a wide area of the country on Wednesday, saying some places could be deluged by as much as 50mm of rain in an hour.
Earlier this month, Typhoon Talas ripped through the west of the country, leaving about 90 people dead or missing.