Campaign targets China's shark fin trade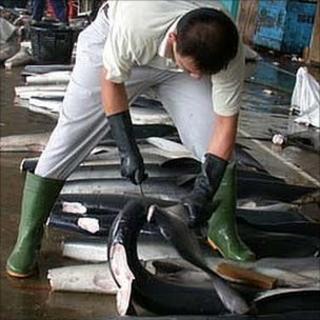 It is mostly legal, but harvesting a shark's fins is a gruesome business.
Fishermen often cut off the fins while still at sea and throw the sharks back into the water, where they bleed to death.
The fins are then dried and sold to Chinese restaurants, where they are made into shark fin soup.
China is at the centre of this trade, but a new campaign hopes to persuade its citizens to stop buying the soup.
It is being run by the international animal rights organisation WildAid, which has enlisted the support of China's most famous sportsman, Yao Ming.
"When the buying stops, the killing can too," says Yao, a recently retired basketball player, in a video to support the campaign.
WildAid is not the only organisation in China trying to persuade people to stop eating shark fin soup.
The Jane Goodall Institute has had an exhibition of gory photographs at Beijing Zoo, next to the tropical bird house.
It showed sharks swimming majestically through the water alongside graphic pictures of fishermen cutting off their fins.
The aim was to remind people of the cost paid by sharks for a bowl of soup, which can sell for $100 (£64) each.
"There is this myth in China that sharks will regenerate their fins, but that's not true. They actually die a very slow, painful and cruel death," said Lei Chen Wong, the institute's executive director in China.
The photographs had an impact on some of the people at the exhibition.
"I was very moved by that particular photo," said Li Zhongwen, pointing to a picture showing a row of dead sharks, minus their fins.
"People really are the cruellest animals," added the 20-year-old student.
Show of wealth
There is an increasing interest in issues such as environmental protection and animal rights in China.
The Jin Ding Xuan restaurant chain in Beijing stopped selling shark fin soup last year as part of a campaign to burnish its green credentials.
"Customers ask us why we've stopped selling it. They say it's expensive so we can earn a lot of money," said general manager Li Mang.
"We simply explain that killing sharks is cruel - and most of our customers seem to agree with what we've done."
But there are still many people in China who want to eat shark fin soup - and an increasing number of them now have the money to do so.
The high cost - a fin can sell for $700/kg - is often an attraction for people who want to show off their wealth.
Some restaurants have even been accused of selling fake shark fin soup, with the vital ingredient exchanged for a less expensive one.
These allegations might, or might not, be true - but they show just how much Chinese people enjoy to be seen eating this dish.
Shark fin soup was also a delicacy enjoyed by China's emperors, another reason why people are keen to eat it, despite the fact it has no special nutritional value.
Ding Liguo, a wealthy Chinese businessman and politician, thinks Chinese people will never be persuaded to stop eating shark fin soup without the power of the law.
As a member of China's parliament, the 40-year-old is hoping to convince the government to ban the trade in sharks' fins.
"Materialism is well developed in China but other things, such as morality, haven't progressed so well," said Mr Ding, a Buddhist who owns a number of steel mills.
WildAid says 73 million sharks are killed each year which, if it continues, could lead to the extinction of several species.
That might be so, but persuading Chinese people to forgo them will not be easy.