Philippines ambush leaves '15 dead'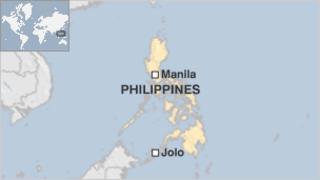 Thirteen suspected Islamist militants and two soldiers have been killed in a clash in the southern Philippines, army spokesmen have said.
A group of marines were ambushed by about 50 men on the island of Jolo, according to the officials.
The military said the assailants were probably an offshoot of the Abu Sayyaf militant group.
The Islamist separatist organisation has been blamed for a string of attacks in the Philippines over 20 years.
The militants ambushed the marines before dawn, regional military spokesman Lt Col Randolph Cabangbang told the Associated Press news agency.
He said the troops fought back, driving their assailants away.
The attack took place in Talipao town, where the troops were reported to have been guarding construction projects.
The spokesman identified the attackers as members of a recently-formed group, Awiiyah, which he said was a radical organisation with links to Abu Sayyaf.
Abu Sayyaf is an Islamist militant group with links to al-Qaeda, which has been blamed for a number of bombings, kidnappings and other attacks in the southern Philippines over the past two decades.