Thailand rebels deliberately target civilians - Amnesty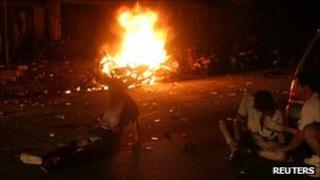 Amnesty International has accused insurgents in southern Thailand of deliberately targeting civilians.
The human rights group says the insurgents have increasingly sought out soft targets and that some of the attacks may constitute war crimes.
But it is also critical of the efforts by Bangkok to end the lingering crisis.
More 4,500 people have died since predominantly Muslim ethnic Malay fighters reignited their war against the Buddhist Thai state in 2004.
Amnesty spent nine months interviewing witnesses and survivors of attacks as well as members of the Thai security forces.
Its conclusion is that there is fault on both sides.
But the report highlights the willingness of the insurgents in Thailand's four southern-most provinces to seek out civilian targets - teachers, civil servants and farmers.
Amnesty is calling on the militants to commit publicly to stop what it calls such unlawful killings.
The insurgents exist as a shadowy, disparate, network with equally unclear goals, though many grievances are rooted in their minority ethnic Malay status.
Amnesty is also sharply critical of the Thai authorities, in particular the security forces, who stand accused of serious abuses including torture.
Such violations have never been properly investigated, which serves to fuel the sense of injustice and add impetus to the armed conflict.