Philippines typhoon Nesat: Your stories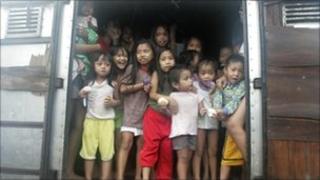 Typhoon Nesat has ravaged the Philippines causing flooding and damage and killing at least seven people.
Schools have been closed and the storm has also forced the closure of the Philippine Stock Exchange and the US embassy in the capital.
BBC News website readers in and from the Philippines have shared their experience of the typhoon.
David Woodbridge, Angeles City, Philippines
"I've lived in the Philippines for about 14 years, and can tell that this storm is really bad.
The power is out now but we do have supplies. We have emergency power, so we can manage for a day or two.
We're expecting that the storm will have passed by tomorrow. But it is a very big, 650km wide or so.
I feel sorry for many of the people here as building construction is poor. Some people only have wooden shelters with roofs of corrugated iron.
Building materials are very expensive, so it is hard to make stronger structures.
There is no help from the government. If you are poor here you suffer.
Farmers were due to harvest the rice from the fields in the next few weeks, but the storm has destroyed the crop and with it and income they would have made, it's very sad."
Michael Whiting, Alabang, Philippines
"Bizarrely I'm in the office. There are people who have come in because they have no power at home.
It doesn't feel like a big storm although it was heavy last night.
Today the city is just eery - it's easy to get around because people are staying at home.
There are certain areas that have been cleared for safety but we have had no advice to stay at home.
It feels like a fuss over nothing from here, but I know it is worse in other places.
When Ondoy happened it was the same, it didn't feel bad in some areas but there was a lot of bad flooding in others.
I have been in the Philippines for years so I am accustomed to seeing storms come through like this.
I work in Makati City in the central business district. We can cope. When you are a few miles out though it's worse, I would not want to be there.
The schools are shut today. I have an eight-year-old daughter, Francine. She is in grade school. Like any eight-year-old she is happy about missing a day at school. If it goes on longer she might not be so excited.
We slept through everything last night but when I drove in this morning - I noticed trees had been blown down and knew the storm had been through.
Philippines people are used to these storms and they just get on with it. The problem is they either have no rain or too much rain."
Fiona and Peter Howgego, London, UK, currently in Manila
"We landed in Manila last night for a two-week holiday.
We woke up this morning and found our hotel lobby had been flooded, and cars outside were up to their wheel arches in water.
Conditions appeared to worsen by mid-morning so we decided to move hotels.
We waded in thigh-deep water with our ruck sacks on wearing swim shorts and waterproofs.
Despite conditions, everyone remained friendly and cheerful.
Now we are in a hotel room on the 18th floor over looking Manila Bay and we can see large waves crashing over sea wall.
The hotel staff say they haven't seen such bad and widespread flooding for 14 years and never this close to their hotel.
We were hoping to go trekking in the north of Luzon, but the typhoon is moving that way so we will travel south instead."
Vinz Co, Valenzuela City, Philippines
"I live north of the capital Manila. We had heavy rains last night and strong winds today.
They crippled the power from around 10 this morning, although it was restored in our area around five this afternoon.
Flooding is expected in the province of Bulacan, north of Manila, near my city of Valenzuela.
This happens whenever a storm passes in central Luzon island."
Richard Evans, Baguio City, Philippines
"This is my third visit to the Philippines. I'm in a hotel in Baguio City which is in a pretty remote area, and directly in the path of the typhoon.
I'm waiting to do work on an project here but it's the worst time to try.
We'll be in the hotel while we are delayed for the next day or so.
The hotel has plywood screwed to the main doors, which are glass.
Part of the work we are waiting to do relies on a container that is stuck in Manila, we're not sure how long it will take to get here as there are only three roads to Baguio City and they may have been washed away in the storm.
Most of the storms in the Philippines come over Baguio City. Some of the roads get washed away but the main problem is the potholes it creates. Those potholes can rip your wheel off.
Driving in this rain you never know what you will find around the corner, it could be a tree down or a boulder."
Abby Thompson, Binan, Philippines
"I drove to Ocampo, Malate to see my friend. I live in Laguna, Binan. I had to park my car down the street from his building because the water was too high.
I walked through water that was thigh high. The street kids were having so much fun playing in the water by my car.
The winds blew hard and rain poured down. I just stayed inside my friend's place all day. The power was out for most of the day until around 6 pm.
I could see the area around the building from the 37th floor was without power and even Mall of Asia. I saw huge white waves splashing way beyond the seawall. I was able to drive home in the morning and the streets were clear."