Shanghai subway crash: Media question safety standards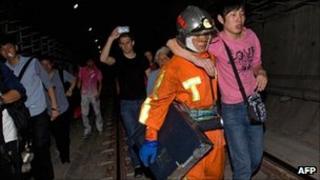 Lapses which may have led to a crash on Shanghai's subway system have been criticised in Chinese state media.
The crash on Tuesday, which injured 284 people, happened when subway staff were directing trains using phones after the signal system failed.
"China should be more cautious and concentrated in avoiding risks," said the English-language Global Times in an editorial.
The crash comes months a train crash near Wenzhou city killed 40 people.
That sparked a wave of criticism - including in some state-media outlets - which suggested that Chinese authorities' thirst for development was putting safety at risk.
Tuesday's crash occurred at about 14:51 local time (06:51 GMT) following a signal system failure at a subway station on Line 10, Shanghai Shentong Metro Group said.
That failure meant staff were directing trains by phone and the trains were running at slower than usual speeds, it said.
The subway train stopped and started before rear-ending another train near Shanghai's Yuyuan Garden.
"I was stunned, not knowing what happened. We tried to open doors and windows but couldn't. I felt smoke in the car," a passenger said shortly after being rescued from the train, Xinhua reported.
By Wednesday, 189 injured passengers had been discharged from hospital while another 95 were still receiving treatment, Shanghai health authorities said according to Xinhua.
It quoted doctors as saying most of the injuries were bruises and bone fractures, but that there were also external head traumas.
'Critical' issue
Speaking of a "dark day" for Shanghai Metro, the company vowed to hold an investigation into what happened.
But Chinese state media were quick to highlight the role of China's lightning development in the apparent safety lapses that led to the accident.
"China should be more cautious and concentrated in avoiding risks," said Global Times in its editorial.
"Although this is hard to do, the tragedies in Wenzhou and Shanghai keep reminding people that China cannot afford failure.
"The safety issue is critical. To ensure the lives of over 20 million people is a grand but painstaking mission, but it is the essence of modernisation."
In its coverage, Xinhua highlighted the role of Chinese-French joint venture Casco, which provided the subway's signalling system.
It said this was the second signal failure on Line 10 over the past two months.
Casco had also provided the centralised traffic control system for the railway where the deadly 23 July crash near Wenzhou occurred, Xinhua reported.
Users of the Chinese microblogging service Weibo were sceptical that any investigation would result in adequate safety improvements.
"An investigation team has been set up again. Who will trust it again? Should the same mistake not be corrected before it is repeated 100 times with the blood of ordinary people?" user Tang Feng posted according to news agency AFP.