South Korea's Hong Joon-pyo visits North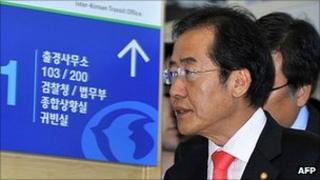 The chairman of South Korea's governing party, Hong Joon-pyo, has crossed the border into North Korea to visit an industrial plant run by the two states.
Mr Hong said the two Koreas needed to separate their economic links from their political situation, which has deteriorated over the past year.
Speaking at the Kaesong plant, he said the relationship had become blocked.
There have been tentative diplomatic steps towards greater engagement between North and South recently.
The rare trip to North Korea by a senior governing party official from the South has been billed as an economic mission.
Mr Hong is due to speak to South Korean businessmen in Kaesong, who say they are suffering financially as a result of deteriorating relations over the past year or so.
However, the BBC's Lucy Williamson in Seoul says the trip is also important politically.
Foreign ministers and nuclear envoys from both sides recently met for preliminary talks, and North Korean representatives have also been talking to the US government.
There are signs that Mr Hong's governing Grand National Party, in the run-up to an election year, is looking for a way to soften its hardline stance on the North.
The South's hardline unification minister has been replaced and leading figures have talked about the need for greater flexibility.