Japan sends nine North Korean refugees to South Korea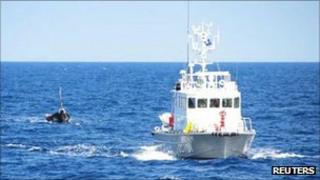 Japan has flown nine North Korean refugees found floating off its west coast three weeks ago to South Korea for resettlement.
The group of three men, three women and three boys were found in a wooden boat off Kanazawa on 13 September.
They had asked to be sent to South Korea, which provides assistance to refugees from the North.
They were only the third group of North Korean refugees to arrive in Japan.
The group were taken from an immigration facility in Nagasaki and flown from Fukuoka to South Korea.
Japanese Chief Cabinet Secretary Osamu Fujimura said it had taken three weeks because the authorities had needed to question them.
"We took our time because we were questioning them one-by-one. And we got a lot of information from them," he said.
"However, I am afraid we are not at liberty to disclose that information."
Rising numbers
The group had been at sea for six days before they were found. Japanese media reported last month that one man said he was in the North Korean military.
In South Korea, the group will be accommodated in a facility for North Korean refugees.
Only two other groups of North Korean refugees have arrived in Japan in the past.
A family of four arrived in 2007, 20 years after 11 crew members of a North Korean ship sailed into a Japanese port. Both groups were transferred to South Korea - the target destination of most who leave North Korea.
More than 21,000 North Koreans have arrived in South Korea since the end of the 1950-53 Korean War, and in recent years the rate has been increasing because of food shortages and economic hardship.
Such incidents tend to anger the North Korean authorities, who demand their citizens back. China repatriates North Korean refugees, but South Korea accepts them and helps them start a new life.