Shanghai subway crash 'was human error'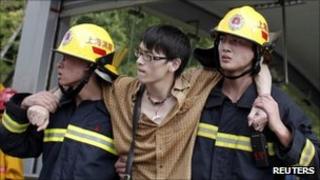 A Shanghai subway train crash that injured more than 280 passengers was caused by negligence and human error, safety officials have said.
Three officials have been fired and nine penalised over the crash, which happened on 27 September.
One train ran into the back of another on one of the city's newest lines at a speed of 35km/h (22mph).
Investigators said the accident was caused by a series of errors, starting with a signal failure.
The signal system failed after power was lost on a line undergoing repairs. Dispatchers then issued faulty instructions that caused the crash, the Shanghai Administration of Work Safety said.
Operator Shanghai Shentong Metro Group should "draw deep lessons" from the accident, AP quoted the investigators as saying.
The accident came two months after a high-speed train crash in the city of Wenzhou that left 40 people dead.
Both incidents have ignited media and public debate about the safety of China's rail system, which has developed rapidly in recent years.