China's new-generation workforce 'staging more strikes'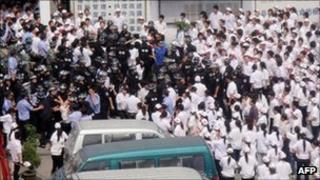 China's new-generation workforce is increasingly staging strikes to improve labour conditions, according to a report by a research group.
Labour unrest and strikes are becoming more frequent among tens of millions of workers in China's giant manufacturing and export industries.
The report, by the China Labour Bulletin, says the workers are using new technology to organise protests.
And it says that they are winning pay rises and better conditions.
'Build a life'
From jeans to iPhones, toys to televisions, China now seems to be making almost everything.
Its manufacturing boom has been fuelled by a massive army of cheap workers from the countryside who toil in its factories.
Last year's census counted more than 200 million internal migrants. Nearly half are so-called "second generation", under 30 years old.
Like their parents they have left their villages to work in the cities. But unlike their parents they are increasingly not prepared to toil in poor conditions, and do not want to return to their villages.
They want a bigger share of the profits their factories are making, according to the new research by the China Labour Bulletin, a labour rights group based in Hong Kong.
"They want to build a life for themselves in the city," said Geoffrey Crothall, who compiled the report. "And to do that they need money."
"And that is why you're seeing a lot more strikes and protests in China now because the demands of workers are getting higher and they're more willing to stand up for themselves."
Using the internet and mobile phones to organise their protests, they have begun to win substantial pay rises and changes in work practices.
For China's ruling Communist Party this new assertiveness poses a real problem.
It needs to keep a lid on discontent in its labour force. It wants to see incomes and living standards improve, but it will not allow workers to form their own, independent unions which could challenge the party.
So they remain disorganised. Any brave enough to lead industrial action often lose their jobs.
And for consumers in the West, many Chinese products may become just a little bit more expensive.