Burma political prisoner releases 'not enough'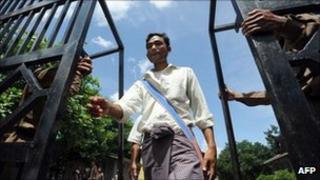 Burma's main opposition group has called on the government to free all political prisoners, a day after it released about 200.
The NLD, of pro-democracy leader Aung San Suu Kyi, said it was frustrated because more had not been freed.
Two well-known figures - a comedian and an ethnic militia leader - were released under the amnesty.
But many more high-profile dissidents, government critics, lawyers and journalists remain behind bars.
There are thought to be about 2,000 political prisoners in Burma.
'Promising signals'
The government says a total of 6,359 prisoners are being released under the amnesty, which was announced on Tuesday.
It is not yet clear exactly how many political prisoners were included in that number, but the Thailand-based Assistance Association for Political Prisoner said it had confirmed 206 so far.
"There are still many prisoners who we expected to be released and who the people expected to be released. We feel frustrated," Nyan Win, spokesman for Aung San Suu Kyi's National League for Democracy party, told AFP news agency.
Zarganar, a comedian jailed for criticising the government's response to Cyclone Nargis, was freed, as was Sai Say Htan, a leader of the rebel Shan State Army jailed for refusing to help draft the new constitution.
But monks who led anti-government protests in 2007 and journalists who covered the protests remain in prison, as do top leaders of the 88 Generation pro-democracy movement.
The UN human rights envoy on Burma, Tomas Ojea Quintana, said the releases were a sign of change but said he wanted more prisoners freed by the end of the year.
Western nations - who impose sanctions on Burma, partly because of the political prisoner issue - have reacted cautiously to the releases.
Speaking before the amnesty, US Secretary of State Hillary Clinton said she was encouraged by "promising signals" but said it was too early to discuss a response.
Burma held its first election in two decades last year, but much of the power remains with the army and leaders of the former military regime.
However, the government has taken a series of steps towards reform since the election.