Plane crashes in Papua New Guinea killing 28 passengers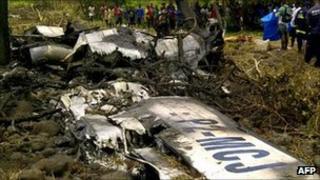 A plane has crashed in stormy weather in northern Papua New Guinea, killing 28 people on board and leaving only four survivors, officials said.
The survivors include the two pilots, from Australia and New Zealand, an Australian government statement said.
Officials said the Airlines PNG Dash-8 was flying from Lae to Madang when it went down in dense forest about 20km south of Madang.
Emergency services and an investigator have reached the scene of the crash.
Most of the passengers on board the twin-propeller plane were believed to be families travelling to attend a graduation ceremony for Madang university students.
'Horrendous'
Trevor Hattersley, the Australian High Commission's warden in Madang, said the plane had crashed in a remote jungle near the coast in poor weather conditions.
"The weather was horrendous," Mr Hattersley told the Associated Press news agency.
"There was a huge storm that came through at the same time - big rain, big wind."
Mr Hattersley said locals living the area had rushed to help, pulling people from the wreckage.
Papua New Guinea's Accident Investigation Commission said it was investigating the cause of the crash.
Airlines PNG said it had grounded its Dash-8 fleet of 12 aircraft until further notice.
More than 20 planes have crashed since 2000 in Papua New Guinea.
The country's rugged terrain and lack of internal connecting roads make air travel crucial for its six million citizens.