Bangkok floods: Thai capital fights to hold back waters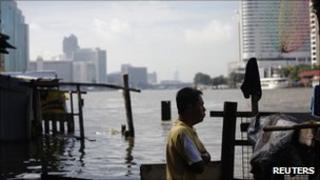 Thai military and civilian volunteers are continuing their efforts to try and stop Thailand's worst floods in decades from inundating the capital, Bangkok.
Canals have been drained to allow for excessive water flow and sandbags have been piled up around the city.
Officials say the next few days are critical as high tides and bad weather combine with the arrival of run-off water from northern Thailand.
North and central provinces have until now borne the brunt of the floods.
Entire villages have been completely submerged and more than 280 people have been killed since the flooding began in late July, triggered by heavy monsoon rains.
'Little comfort'
Teams of troops and volunteers have been racing to fill sandbags to fortify existing dykes and protect homes and businesses in the capital.
The main canals have been drained and troops are digging out other canals to help water flow out to sea.
Officials in charge of managing the floods say they plan to divert the water through canals to the east and west of Bangkok and then out to the sea.
Prime Minister Yingluck Shinawatra said her government was focused on keeping flood waters away from key areas.
"We will protect strategic areas and the heart of the economy such as industrial zones, the central part of all provinces and the Thai capital as well as [the main international] airport, industrial estates and evacuation centres," she said.
Shops in some parts of the capital are running short of supplies because of a rash of panic buying as well as disruption to distribution networks, the BBC's Rachel Harvey reports.
Some people have parked their cars on the upper levels of multi-storey car parks.
Officials have predicted that water levels will be at their highest in the low-lying capital between 16 and 18 October.
Worapat Tianprasit, at the Royal Irrigation Department, said water levels in the city's main Chao Phraya River had risen to 2.27m above sea level on Saturday morning at high tide, which was lower than expected.
"If the tide does not exceed 2.5m, there won't be any flooding," he was quoted by the Agence France Press as saying.
Reassurances that central Bangkok will be spared the worst is of little comfort to those living in the outskirts of the city, or in surrounding provinces which have already been hit by the deluge, our correspondent says.
Thailand's economy has been disrupted by the weeks of flooding, with many factories - including Japanese carmakers Toyota and Honda - forced to suspend production because of damage to facilities or disruption to local supply chains.
The city of Ayutthaya, a World Heritage site which is home to temples and monuments, has also been badly affected.
Neighbouring Cambodia has also been hit hard, with the loss of almost 250 people and 17 out of 23 provinces affected.