Thai flooding: Floodwalls reinforced to protect Bangkok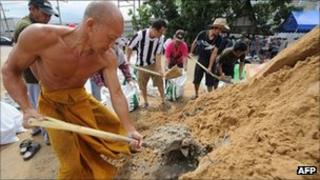 Thai soldiers and civilians worked frantically to shore up sandbag defences on the northern edge of the Bangkok on Tuesday.
The action came after the city's governor warned that the threat posed by the worst flooding in Thailand in half a century was not yet past.
"Every second counts," said Gov Sukhumbhand Paribatra, saying more than one million more sandbags were needed.
His warning came despite government confidence the threat was subsiding.
At least 315 people have been killed and tens of thousands left homeless in the floods, which have inundated two-thirds of the country since July. A third of Thai provinces remain under water, reports suggest.
Analysts say the floods - which have hit the country's extensive manufacturing infrastructure - are likely to cut annual economic growth by more than one percentage point, but this could double if Bangkok is badly hit.
Prime Minister Yingluck Shinawatra and government ministers had expressed confidence that the threat to the capital had peaked but Gov Sukhumbhand - from a rival party - warned that it was still in danger.
Late on Monday, he said a 6km (3.7-mile) flood wall running along the northern edge of of the city suburbs was vulnerable to massive streams of run-off flowing from provinces north of the city into the Gulf of Thailand, AP news agency reported.
Navanakorn warning
He said the wall needed to be reinforced by 50cm (20 inches) by Wednesday night, saying that the central government had promised to supply more sandbags but urging residents to help produce yet more.
On Monday, the authorities ordered one of Thailand's oldest and largest industrial estates, Navanakorn, to be evacuated, after floodwaters overwhelmed defences at the site, which houses global manufacturers including Casio, Nestle and Toshiba.
Officials now say about 10% of the site is under water. Authorities have warned residents in low-lying eastern suburbs of the capital that sluice gates upstream might be opened to spare the site more flooding, AFP news agency reported.
"It's necessary to save places of economic significance while sacrificing less important areas," Justice Minister Pracha Promnog, director of the government's flood relief centre, said according to AFP.