New Zealand profile - Overview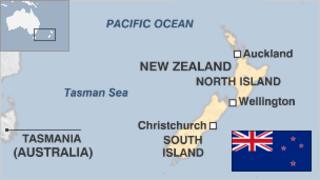 New Zealand is a wealthy Pacific nation dominated by two cultural groups: New Zealanders of European descent; and the Maori, the descendants of Polynesian settlers.
It is made up of two main islands and numerous smaller ones: the North Island (known as Te Ika-a-Maui in Maori) is the more populous of the two, and is separated by the Cook Strait from the somewhat larger but much less populated South Island (or Te Waipounamu).
Agriculture is the economic mainstay, but manufacturing and tourism are important and there is a world-class film industry.
New Zealand has diversified its export markets and has developed strong trade links with Australia, the US, and Japan. In April 2008 it became the first Western country to sign a free trade deal with China.
The precise date of early Maori settlement remains a matter of debate, but current research suggests that the first arrivals came from East Polynesia sometime in the 13th century. It was not until 1642 that Europeans became aware of the existence of the islands.
British sovereignty was established under the 1840 Treaty of Waitangi - a pact between Maori chiefs and the British government over land rights.
The treaty gave rise to land claims which culminated in the "New Zealand Wars", a series of skirmishes between colonial forces and Maori in the North Island.
The government awarded money and land in settlements during the 1990s, but the land issue remains controversial.
Maori New Zealanders make up 15.4 per cent of the current population.
The landscape is diverse, and sometimes spectacular. This has fuelled tourism; visitors are drawn to the glacier-carved mountains, lakes, beaches and thermal springs. Because of the islands' geographical isolation, much of the flora and fauna is unique to the country.
New Zealand plays an active role in Pacific affairs. It has constitutional ties with the Pacific territories of Niue, the Cook Islands and Tokelau.
Its troops served in East Timor when violence broke out in the territory in 1999 and were part of a multinational force intended to restore order to the Solomon Islands in 2003. Further afield, New Zealand forces have backed peacekeeping and development efforts in Afghanistan.
But its anti-nuclear stance - including a ban on nuclear-powered or nuclear-armed vessels from its waters - put it at odds with the US in the 1980s.
In the 1980s the government embarked on a dramatic and controversial economic reform programme, which lifted controls on wages, prices and interest rates and removed agricultural subsidies.
A significant amount of New Zealand's electricity is generated by hydropower sources and the country has a range of renewable energy sources at its disposal.
Migration patterns have changed, with most incomers coming from Asia and Pacific island states, rather than from the UK and Australia. Officials estimate that Asians will make up 13% of the population by 2021 from about 9% in 2009.