Indonesian police break up Papuan separatist gathering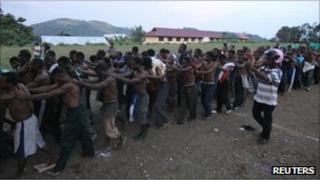 Security forces in the eastern Indonesian province of Papua have fired tear gas and warning shots to break up a meeting of separatists.
Witnesses say police and soldiers surrounded hundreds of activists who had gathered in a field outside the provincial capital, Jayapura.
Dozens of people including the organisers were arrested, police say.
Many Papuans reject the region's status as an autonomous part of Indonesia.
Police say delegates at the gathering, known as the Third Papuan Congress, had made a declaration of independence.
A police spokesman, Wachyono, told the BBC, "We cannot let them announce a transitional government for Papua."
"This move is against the law and we cannot let it happen.
"We fired warning shots to disperse them," he said.
One rights activist, Paskalis Tonggap, accused the security forces of attacking people at the meeting.
"They got in and started firing tear gas, trampling and beating up the crowd with their bare fists and rifle butts," he told the French news agency, AFP.
However, police say there were no casualties.
The Indonesian government has maintained tight control of Papua, but a low-level insurgency has continued there for decades.
Papuan political leaders have repeatedly demanded a referendum on independence.