School in China withdraws forced wearing of green scarf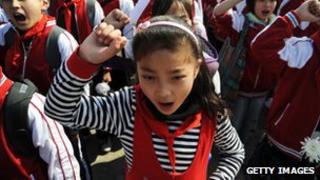 A primary school in China has been ordered to stop forcing underachieving or badly behaved pupils to wear green scarves instead of communist red.
Ordinarily students would wear the traditional red versions of the communist Young Pioneers.
Teachers at the school in the city of Xian were quoted as saying the idea was meant to motivate pupils to improve.
But parents described it as discriminatory, saying it would hurt children's self-esteem.
The education authority stepped in after an outcry from parents and internet users, to stop the school in Weiyang district continuing the practice.
"I am unhappy when I see the other students all wearing the red scarf," one student said.
"I feel the green scarf is ugly, but the teachers will blame me if I don't wear it."
An online poll showed 98% of respondents were opposed to the forced wearing of green scarves.