Burma flash floods 'leave dozens dead or missing'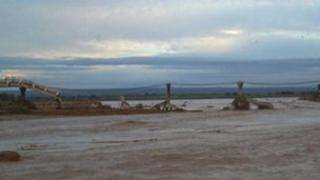 Reports from central Burma say dozens of people are dead or missing after flash floods.
The flooding happened on Thursday in the town of Pakokku when torrential rain caused a river to overflow.
Residents told the BBC they had recovered more than 50 bodies but there has been no word from local officials.
Reports say many other people are missing and that at least 200 houses were swept away.
"Some people, animals, houses and a monastery were swept away when the water rose up," a monk was quoted as saying by AFP news agency.
South East Asia has been hit by severe flooding since unusually heavy monsoon rains began in July.
In Thailand, about a third of all provinces remain affected and run-off from central plains is threatening the capital, Bangkok. Cambodia has also been badly hit.