Australia hunts Great White shark which killed US diver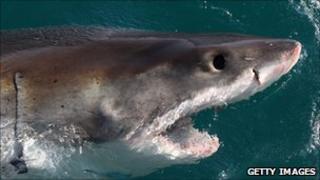 A hunt is under way off the coast of Western Australia for a Great White shark which killed a US diver.
George Thomas Wainwright, 32, from Texas, was diving off Rottnest Island near Perth when he was killed.
Fisheries officials have issued a kill order and laid baited hooks in the hope of capturing what is believed to be a 3m (10ft) Great White.
Mr Wainwright is the third person to be killed by a shark along Australia's west coast in recent weeks.
Bryn Martin, a 64-year-old businessman, disappeared while swimming off Perth's Cottesloe Beach on 10 October. His swimming trunks were later found on the sea floor, with damage said to be consistent with a shark attack.
Last month, 21-year-old bodyboarder Kyle Burden died after being savaged by a shark near Bunker Bay, 260km south of Perth.
Beaches closed
Six baited hooks were laid in waters off Rottnest Island after Western Australia's Fisheries Minister Norman Moore issued an order for the shark to be hunted down and killed - the first time such powers have been executed.
Regional Manager Tony Cappelluti told the Associated Press news agency that the hooks were removed from the water after six hours for fear the tuna bait would attract more sharks to the area.
"There's been no sightings, so that would probably indicate that the shark's left the area," Mr Cappelluti said.
He said the hunt would continue with fisheries vessels - equipped to track, tag or destroy the shark - monitoring the waters around Rottnest.
Rottnest's beaches are to remain closed until Monday.
Mr Wainwright had been living in Perth for several months on a work visa.
He had reportedly entered the water alone from a boat some 500m (1,640ft) from shore on Saturday.
Witnesses on the boat say they became concerned after noticing a large number of bubbles surfacing. Mr Wainwright's mauled body came to the surface a short while later.
Two people on the boat described seeing a 3m (10ft) Great White shark.
Cull mulled
Sharks attack more often in cloudy weather and police said the day had been overcast.
Western Australia Premier Colin Barnett has said he would consider a shark cull, and his government is looking into the possibility of increasing aerial shark patrols.
But scientists have warned against over-reacting.
Barbara Weuringer, marine zoologist and shark researcher at the University of Western Australia, urged against a shark hunt, saying the only way to know which shark attacked is to kill one and open up its stomach.
"It sounds a little bit like taking revenge," she was quoted by AP as saying. "And we're talking about an endangered species."
Sharks are a common feature of Australian waters but, according to the Australian Shark Attack File, attacks are rare with only 53 fatalities in the last half-century.