No agreement but US has 'positive' talks with N Korea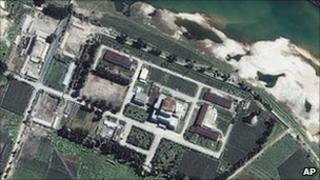 The US and North Korea have failed to reach a deal on resuming international negotiations on the North's nuclear programme, after two days of talks.
US negotiator Stephen Bosworth said the meeting in Geneva had been positive.
But he said there was a long history of differences between them, which could not easily be overcome.
Pyongyang has recently pushed for a resumption of six-party talks, which broke down in April 2009 when North Korea walked out.
A month later, North Korea tested its second nuclear weapon.
Increased tension
After two days of talks in Switzerland, Mr Bosworth said: "It has been a very useful meeting. The tone was positive and generally constructive.
"I am confident that with continued effort on both sides, we can reach a reasonable basis of departure for formal negotiations for a return to the six-party process."
Pyongyang wants the six-party talks to restart without preconditions - but Washington wants a clear commitment first from North Korea to disarm.
Chinese state media reported that North Korean leader Kim Jong-il has repeated that Pyongyang was willing to restart six-party talks as soon as possible.
The Xinhua news agency said Kim had told visiting Chinese Vice Premier Li Keqiang that "the principle of simultaneous action" should apply - a reiteration of the North's stance that negotiations should resume without preconditions.
'Difference narrowed'
The US said the two days of face-to-face talks in Geneva were both positive and constructive - some differences had been narrowed, others explored.
"We came to the conclusion that we will need more time and more discussion to reach agreement," Mr Bosworth said.
The US wants North Korea to adhere to a 2005 agreement it later reneged on - requiring it to give up its nuclear activities in return for security guarantees, aid and better relations.
There has been rising tension on the Korean peninsula since the North walked out on the six-party discussions - which involve South Korea, China, Russia, Japan and the US.
In 2010, 50 South Koreans were killed in attacks blamed on the North along their disputed border.
But prior to the Geneva talks, Washington and Pyongyang agreed to resume searching for the remains of American soldiers killed in the Korean War of the 1950s.
And in July, the foreign ministers of North and South Korea met for the first time in three years.