Thailand floods: Waters advance on north Bangkok areas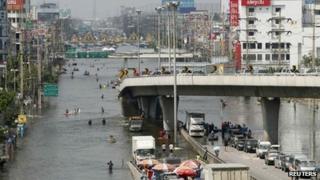 Floodwaters are creeping further into the Thai capital, Bangkok, with residents of six more districts told to move to higher ground.
Roads near the Don Muang domestic airport were flooded and the huge Chatuchak market in the north of the city was at risk.
Two more industrial estates were also threatened and a prison of 2,000 inmates was reportedly being evacuated.
Thailand is grappling with its worst floods in five decades.
Heavy monsoon rains since the end of July have flooded swathes of the country and left more than 350 people dead. About a third of all Thai provinces are affected by the flooding.
The authorities are trying to drain water from inundated central areas to the east and west of Bangkok and out to sea.
But they have been forced to open sluice gates into the city because of the sheer volume of water building up outside Bangkok's flood barriers.
'Protect Bangkok'
Water is now creeping into northern parts of the city, but central areas remain unaffected.
In some districts there are reports that residents have tried to remove barriers to allow water to flow onwards from their flooded homes.
But Bangkok Governor Sukhumbhand Paribatra said the city needed to be protected because it was Thailand's economic heart.
"It doesn't mean that I don't care about people outside Bangkok," he said. "I need to protect Bangkok, as the safety of Bangkok means the safety of the whole country."
Analysts have warned that growth could be affected by up to 2% if the flooding hits Bangkok.
The BBC's Rachel Harvey in Bangkok says inconsistent messages and apparent tension between the central government and the local Bangkok administration are eroding public confidence.
Many schools have postponed the start of the new term, and supplies of canned food and bottled water are running low as panic buying takes hold, our correspondent says.
North of Bangkok, flooding remains severe in the provinces of Pathum Thani and Ayutthaya.
At least six crocodiles were killed or captured there over the weekend, amid reports up to 100 may have escaped from farms and wildlife centres.