Mongolia profile - Leaders
19 August 2015

From the section

Asia
President: Tsakhiagiin Elbegdorj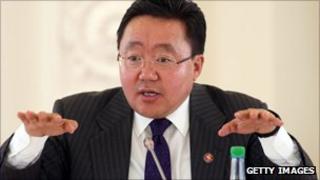 Tsakhiagiin Elbegdorj, from the Democratic Party, began a second term as president in July 2013. He won just over 50% of the vote.
The veteran democracy campaigner has twice served as prime minister and was first elected president in 2009.
The faltering economy and concerns about the growing role of foreign firms in the mining sector were key campaign issues in the 2013 election.
Mr Elbegdorj's government pursues a "resource nationalist" approach which aims to give Mongolia a bigger say in how its assets are exploited.
Analysts say Mr Elbegdorj enjoys the support of the urban middle class.
The prime minister and parliament exercise real political power, but the president heads the armed forces and has the power of veto in parliament. Frequent changes of government have also enhanced the role of the presidency.
Born in 1963, Tsakhiagiin Elbegdorj was one of the leaders of the peaceful revolution that ended the Communist dictatorship in 1990. He has a degree from Harvard University's Kennedy School of Government in the US.
Prime Minister: Chimed Saikhanbileg
Parliament chose the Democratic Party's Chimed Saikhanbileg as prime minister in November 2014, in a vote boycotted by the opposition Mongolian People's Party. His predecessor, fellow Democratic Party member Norov Altankhuyag, had earlier lost a parliamentary vote of confidence over allegations of corruption within his administration and his handling of the country's faltering economy.
Despite boycotting the vote, the opposition Mongolian People's Party agreed in January 2015 to form a government with Mr Saikhanbileg's Democratic Party (DP) and the Justice Coalition, only to be ousted from the coalition eight months later. Lawmakers approved a motion submittted by Mr Saikhanbileg to dismiss six cabinet ministers from the Mongolian People's Party. Almost all of the 46 members who participated in the vote, out of the 76-member parliament, backed the motion amid a boycott by the opposition.
Parliament speaker Zandaakhuugiin Enkhbold declared the decision immediately invalid and President Tsakhuagiin Elbegdorj publicly declared he did not support the move. Coalition break-ups are not uncommon in Mongolia and parliamentary elections are set to take place in mid-2016.
Born in 1969, Mr Saikhanbileg is among a younger generation of Democratic Party politicians and a graduate of George Washington University where he studied law. He was first elected to parliament in 1996 and led the Democratic Party caucus in parliament from 2008 to 2012. He is a former minister of education and was a cabinet office minister before his election as prime minister.